This blog discusses tips that will help divorce attorneys improve their digital marketing which in turn will improve their reach.
To become a successful divorce attorney, you must traverse a rough and difficult path that is fraught with many ups and downs. As a divorce attorney, you must continuously deal with highly emotional people. They reach out to you in their weakest moments while going through personal loss and instability. Unless you can come across as empathetic – you cannot make it big in this highly competitive space.
One of the things you need to do to become a successful divorce attorney is to promote your business adequately – especially through digital marketing. Marketing for divorce lawyers is different. You should successfully pitch yourself to people and should not come across as a nameless, faceless company with busy lawyers. It is your job to develop a personal bond with your clients and this should get reflected in your marketing approach.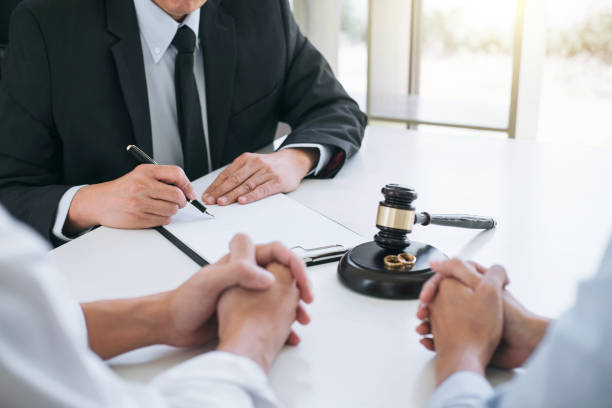 As you would already know, there are tens and thousands of divorce attorneys in the United States. Millions of divorce-related searches take place on search engines every day. To make a mark in this competitive space, you must have in place a tailored marketing strategy that not only attracts potential clients but also turns them into quality leads.   
In this article, we will discuss some tips that you should keep in mind while marketing for divorce lawyers.
Marketing Tips for Divorce Attorneys
#1 Know Your Target Clients       
Before you begin your marketing campaign, you must first attempt to understand your customer base. Consider the following factors –
 

The average age of your target customers,

 

Their gender – whether they are male or female (also consider whether you represent just one gender or both),

 

Their geographical location (and your proximity to them),

 

Their income source (and how that can affect your billables),
However, just knowing about your ideal customer base isn't enough. You also need to be clear on a few things, such as –
 

What services can you provide – divorce, child custody, annulment

 

Can you answer all their divorce-related questions?

 

What are the possible challenges you must overcome?

 

Do you have the qualities your clients look for in a lawyer?
You must re-evaluate yourself based on these observations so that you know where you stand and how you can move ahead.
#2 Make Use of Search Engine Ads         
Ask yourself this – how will my prospective clients find me? People look up for every kind of information online and if you aren't visible on search engines, you cannot reach your prospective clients. It's this simple an equation today.
So, begin your digital marketing journey by posting ads on search engines. And by that we essentially mean you start with Google – the number one search engine out there. Google has made it very easy to post ads. You can begin by posting Local Service Ads and Search Ads – both are high-returning investments.
There are a number of options on Google you can explore while posting ads. The two that we recommend for divorce attorneys and law firms are Search Ads and Local Service Ads. You can start seeing leads and calls in the first week or two after posting ads through these services.
#3 Work on Building a Business Website 
Millions of people look for divorce attorneys online every day. There is undoubtedly huge competition here but if you ace your digital marketing game, you can be a game-changer. To stand out from the crowd, you must build a website that is appealing, informative, and useful to your prospective clients.
However, when we talk about building a website, it is not just limited to good designs and navigation. At the backend, you also need to work on SEO (about which we shall talk later), fresh content, and keyword optimization. You also need to ensure that the page loads fast, is mobile-friendly, has a live chatbot, and a live magnet that compels visitors to share their contact information.
#4 Continuously Work on SEO and Content Creation       
Content remains the king and there isn't going to be any alternative to this no matter how many new technological improvements come your way. In digital marketing, it's a simple equation. To rank favorably on search engines, your website needs to be well built. But inside your website, there must be relevant and fresh content.
SEO is also important because it brings organic traffic to your website which essentially means that you are not paying the search engine to rank your website at the top of the list. (In pay-per-click ads, you pay the search engine every time a user clicks on your link). In SEO, the content and keywords must bring organic traffic.
However, the thing about SEO is that you must look at it as a long-term investment. There is no "correct" way of doing SEO – everything is very organic and thus it takes time to see results. What has worked for your competitor may not work for you. it is important to give it time so that you can gauge the results and estimate the kind of success you are having over a period.  
While we talk about SEO, it is also very important we discuss the importance of keyword optimization. Keyword stuffing content no longer works. You cannot use the "divorce attorney" keyword multiple times within a blog post (and that too without context) simply to rank better. That doesn't happen. Your content must be intelligently structured around keywords so that your rankings improve.
#5 Up Your Social Media Game   
You cannot ignore the influence of social media as a powerful marketing medium today. Use it to build your community, become close to your clients, and to stay connected. However, there is more you can do on social media. You can educate, and share tips on how to deal with legal issues and why hiring you as a divorce lawyer can help them.
The one thing you must remember about being active on social media is to have a face. While your law firm can definitely have a social media handle, your clients will connect more if they know you – the lawyer. Instead of trying to tweak algorithms to work in your favor, show people the "real you" and why you care about your clients. Portray a sensitive and sensible side of yourself and you will win big on social media.
#6 Showcase Positive Testimonials and Reviews
You know the power of "word of mouth" and in the digital world, its importance and relevance are ever increasing. These days we tend to rely on online reviews – whether they are on Google or Yelp. The better the reviews and ratings, the better the perception of a business. If as a customer, you have often relied on online reviews and testimonials, you will understand its relevance from the other side of the table as well.
Request your long-term clients to share their experiences of working with you. Request them to write recommendations for you on social media platforms such as Facebook and LinkedIn.  
According to a 2020 research on law firms, it was found that 56% of respondents gave importance to online reviews and said that these reviews helped them make better decisions before hiring any lawyer. Not only do reviews help clients make better decisions but they are built in a manner that largely controls the visibility of websites and online profiles.
Reviews look great on social media as well. When you share testimonials multiple times per month, it generates interest. You can also use a review to begin a social media post and weave around an interesting story. With the help of reviews, you can share how you solved a problem that many faces.  
It is also a good idea to republish reviews and testimonials from Google on your website. This creates trust and adds to your social profile.
#7 Don't Dish Out the Importance of Networking           
When you were an aspirant lawyer, you must have heard this many times – networking is the backbone of a successful practice. Now that you have become a prominent divorce lawyer, do not neglect its importance.
Sometimes, it is important to walk out of that office and meet your competitors on an even playing field. Nowadays many online platforms help arrange such meetups. You can register with these sites to network with your peers. These are good platforms that can help build your business. You can use these platforms to network with other lawyers as well as to broaden your professional relationship in the legal community.
#8 Benefit from Blogging
Blogs have been around for many years now. At some point in time, we have all indulged in blogging. Being the repository of information, it can also be called the largest bank of information. Access is easy and free here which makes them even more popular.
Blogs are a great way to showcase your knowledge. You can share your legal experiences and offer simple solutions for complicated situations such as child custody. Most often people seek lawyers who will understand their situation. They search for such professionals on the Internet. If you become that go-to blog where people find all kinds of information about divorce and separation – they will tend to hire you more easily.
However, reaping benefits from blogs isn't easy. You need to give it time and a lot of effort. If you do not have the time to invest in blogging every week, the next best thing to do is to hire a digital marketing agency that specializes in blogging. You share your ideas with them, and they create the blog post for you.
Conclusion
Marketing for Divorce attorneys is not everybody's cup of tea. It takes effort, time, and quite a bit of skill. With increasing competition, staying updated and on top of your game can become difficult. With your legal commitments, you may not have the time to invest in digital marketing. What you need is a boutique digital marketing agency that understands your nuanced needs and caters to reaching your targeted audience.
Cyrusson Inc. is just the digital marketing agency that you are looking for. We are a dedicated team of marketing experts who have worked with legal professionals for many years and understand your needs and requirements. Let us handle your digital marketing needs so that you can concentrate on your practice. Sounds like a plan, doesn't it? Get in touch with us today – send an email or call us to book a free consultation!